The craft behind our Christmas card
12 December 2016
With Christmas fast approaching, it's that time of year when tradition dictates that I create our festive card. As a creative, I love to 'paint' with light and Christmas itself conjures up thoughts of light! From twinkling lights on the tree to the glow of an open fire, so I decided to use light as the method and subject to create our 'Painted by Light' Christmas card.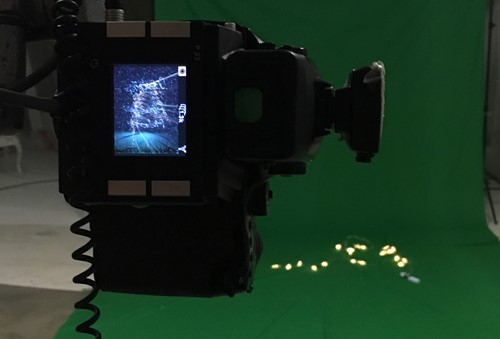 The method in our madness... As with any shoot, once the idea is in place, we must then set the scene. The day started by clearing a space in the studio, setting up a green cloth background and positioning the camera, our minimal stage was set. The main lights then went down so I could start capturing the light that would create the pattern for our card. We chose to go for one of the most iconic symbols of Christmas, the Christmas tree. I used a set of £5 tree lights and my iPhone. The way I moved, and the way I captured the movement of those lights would then come together to create the finished image. A series of 'bulb' exposures whilst spinning around with the lights then writing the message with my iPhone flashlight was quite complex, especially when it came to writing the message and trying to remember where to dot the 'i's and cross the 't's! The red 'baubles' were created with my finger over the iPhone light to create the festive red glow.
As with most of my photography, I like to use traditional methods and use as little software as possible. Overall I spent a few hours in total blackout spinning around tangled in lights - but I loved every minute! The only Photoshop used was to flip the image so the message would read the right way around - I'm afraid I haven't quite mastered the art of writing backwards!
The chosen image was shot in a single exposure. It is far from that of a pristine, computer designed card you would see on the shelves. It is hand crafted, and that to me is the beauty of it. I wanted to create something we could be proud of and something that had a story behind it.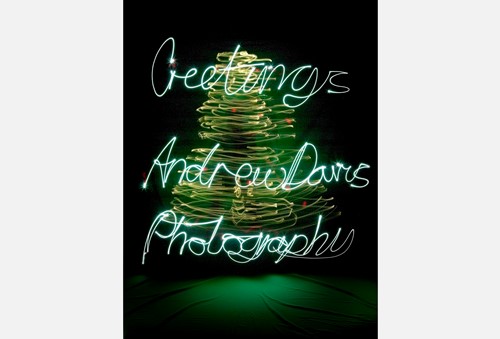 I hope you all enjoyed our 'crafty' tale! Wishing you all a very Merry Christmas and a Happy New Year Andrew Davis